The importance of a modernized, innovative provider credentialing platform has always been important, however, in today's challenging healthcare sector, it's become essential. KLAS recently released their Credentialing 2022 report and Modio has once again proved they are raising the bar. Modio's medical staff credentialing technology has received high rankings from KLAS as a top credentialing vendor for the 4th straight year in a row. Modio is the only credentialing platform to receive consecutive 'A' grades or above across all categories.
A quick breakdown of some of the report highlights include:
97% Would You Buy Again
96% Avoids Nickel-and-Diming
96% Keeps All Promises
93% Part of Long-Term Plans
Modio's performance strengths also included sizable year-over-year increases in the following:
Communication and Partnership
Product Quality
Ease of Use
Meeting Customers' Needs
Implementation Process
Phone/Web Support
Integration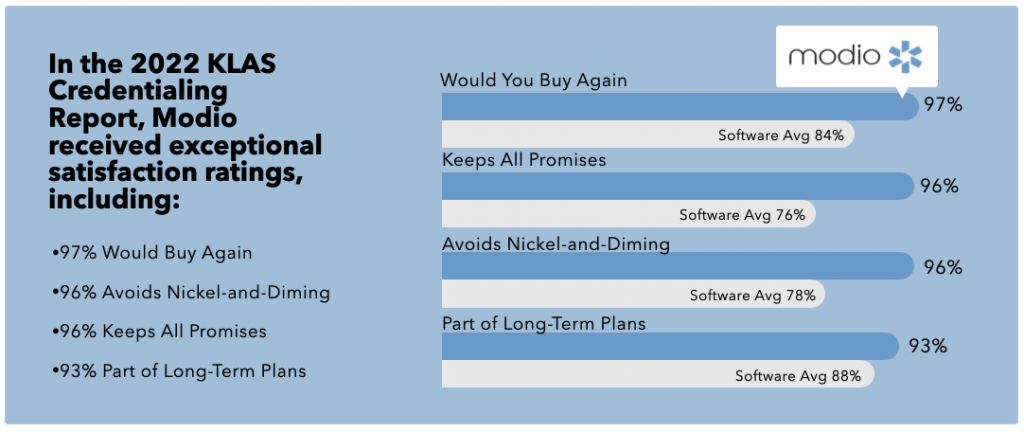 John Bou, our COO and Co-Founder shares, "The pandemic has shown the healthcare sector that it's critical we get credentialing right. When you factor in the ongoing staffing crisis and burnout, it's clear that we need to get physicians and nurses working when and where they are needed and as efficiently as possible. Our goal at Modio is to make this happen by providing healthcare organizations an innovative, modern credentialing process. This recognition from KLAS really shows us that we're on the right track."
Learn more about Modio today.