State License Updaters:
You know the drill – more updaters! Here are the new releases for this week:
AL – CDR, Social Work
CA – DMD, FNP-BC, SLP
CT – CSW
IN – APRN-RX, GC, TEMP-MD, PC, Midwifery
MI – LLMSW, PA-C
MN – Social Work
MT – CDR, LCPC
NV – ARNP, CDR, Social Work
OR – Social Work
TX – RTL, TEMP-MD, AL, Massage Therapy, Audiology, and more
WV – Social Work
Nursys – NP-C
Primary Source Links:
We've also updated the verification links for Massachusetts MDs and DOs, as well as West Virginia LPCs and MFTs.
Payors:
You'll notice a new field "Application Submission Date" in the healthcare payors section. (This field only appears if a payor status is set to Pending or In Progress, to help you track the enrollment process.) (see image). We've also created a new column for Payor State – look for it right before the Provider Number column.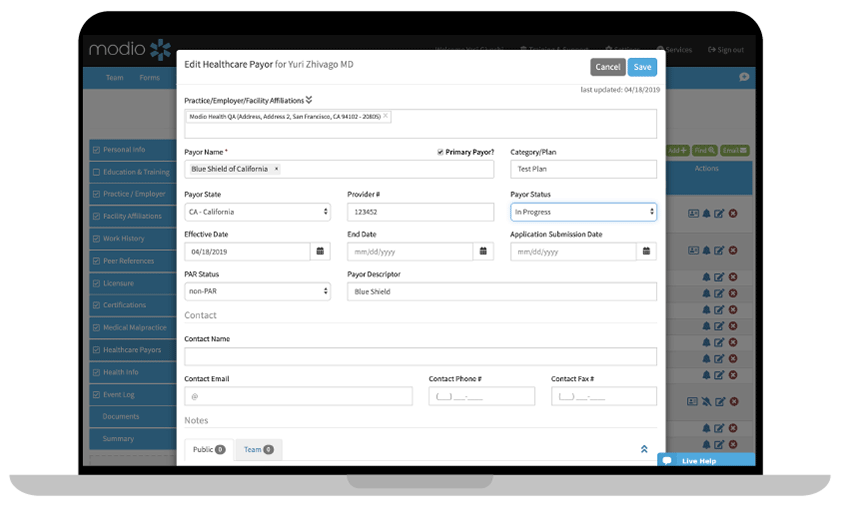 Documents:
We made a couple changes to the way Documents work.
Now, when you add a new state license and automatically run an updater on it, the PDF uploaded to your provider's profile won't have an alert (this way, you don't get bogged down with too many alerts that you didn't set yourself).
In addition, when you upload a new document to any credentialing section, you'll also notice that the document types are alphabetized within each category. No more confusion!
Reports:
The Certifications CSV now has two new columns for provider Tags and NPI number.
The New List:
New board certification "National Register of Health Service Psychologists"
New additional certifications:

CSC – Comprehensive Stroke Center Certification
TSC – Thrombectomy-Capable Stroke Center
PSC – Primary Stroke Center Certification
ASRH – Acute Stroke Ready Hospital Certification

New provider title "CDE – Certified Diabetes Educator"
New additional ID type "EMR"
New document type "Facility Dues"
New healthcare payors