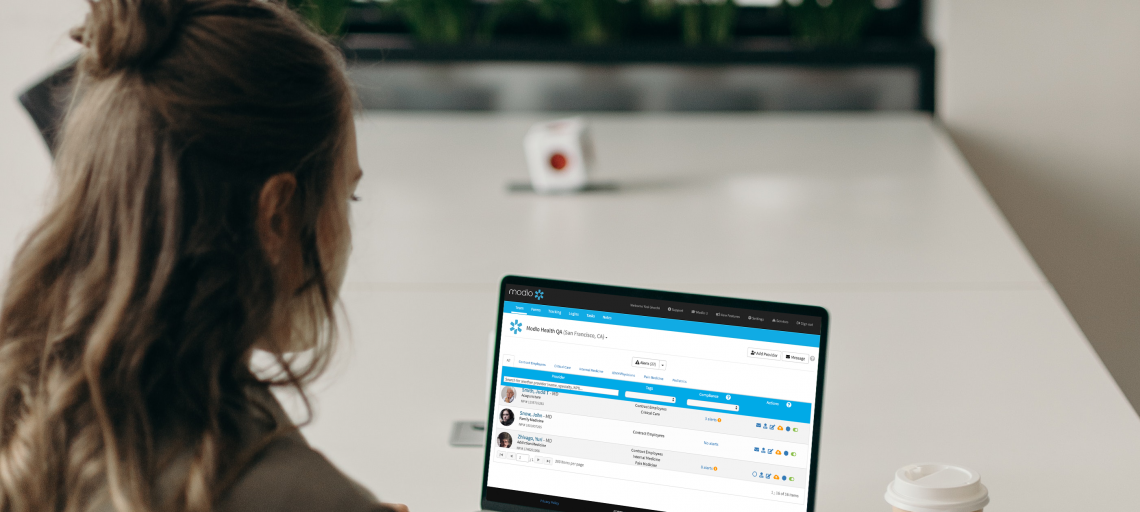 New technologies and innovations are taking place every day to help providers and healthcare organizations deliver better care to patients. Yet no matter how accustomed we become to the ever-changing nature of this sector, it's safe to say that 2020 has taken us all by surprise.
It's a new world on many levels, but healthcare especially has had to make drastic changes in record time to adapt to the "new normal" resulting from the COVID-19 pandemic. License verification is one of the most important and necessary procedures in healthcare to ensure patient safety  —  it's the gatekeeper to healthcare. Yet it's been one of the processes notoriously slow to evolve. COVID-19 has greatly emphasized the importance of modernizing provider credentialing so that providers can quickly and safely practice medicine when and where they are needed. 
Founded in 2014 by two physicians, Dr. Kirk Heath and Dr. Tom Clifford, and a tech entrepreneur, John Bou, Modio Health addresses the challenges of provider credentialing through technology and innovation. We started out as a healthcare staffing company but soon noticed how difficult it was to place our physicians in jobs in a reasonable amount of time. We would make a match with a hospital, yet our physicians would have to wait months to start working. Why is this process taking so long? What are the obstacles preventing providers from working sooner? Where are the gaps? The gears started turning toward finding a better way, and that's when we decided to build a solution internally that would streamline the process. We discovered that with our new platform, we could get our physicians working in under 30 days. We knew we were onto something special, and from this, Modio Health was born.
Provider credentialing was stuck in the Dark Ages (and, in certain areas, still is). Despite the complexities of credentialing, many healthcare organizations still rely on manual methods, i.e., Post-its and Excel spreadsheets, to get it done. One of our founders, Dr. Tom Clifford, wrote a piece for KevinMD last year outlining some of the challenges. "This process is prone to human error, which in turn results in missing data and delayed delivery of information, which then ultimately leads to delays in patient care. It's also time-consuming, costly, dangerous, and often inaccurate — 85 percent of applications are missing critical information that is required for processing," says Clifford. "Medical practices spend, on average, $7,000 for each provider credential application, plus 20 hours of administrative time. Still, new hires often can't start practicing for two to three months, which just compounds the financial impact."
Our platform provides easy access to a wealth of detailed provider information, including years of experience, malpractice history, board status, and more — ensuring only the highest caliber of candidates. Providers need to enter only a few pieces of information for us to automatically pull in their details from our database, making the credentialing process incredibly quick. Our platform, OneView enables hundreds of integrations with data sources to automatically gather and store real-time, primary source information like NPI, DEA, license numbers, education, OIG status, and more.  We store every provider's data securely in the cloud, meaning that it's easy to manage multi-state credentials, license expiration dates, and other important details, and all of this data is under the provider's control.
COVID-19 has shown us that providers need more flexibility to practice medicine. They need to be able to practice telemedicine and practice medicine in other states and at different hospitals easily if they choose so. Aside from the pandemic, our sector has been working through extremely high levels of provider burnout as well as staffing shortages. It's time for the industry to embrace flexibility and freeing up providers to practice medicine in a way that works best for them. We're here to ensure you that providers can be licensed quickly and safely without having to jump through hoops or compromise quality of care. 
To learn more about Modio, visit https://join.modiohealth.com/