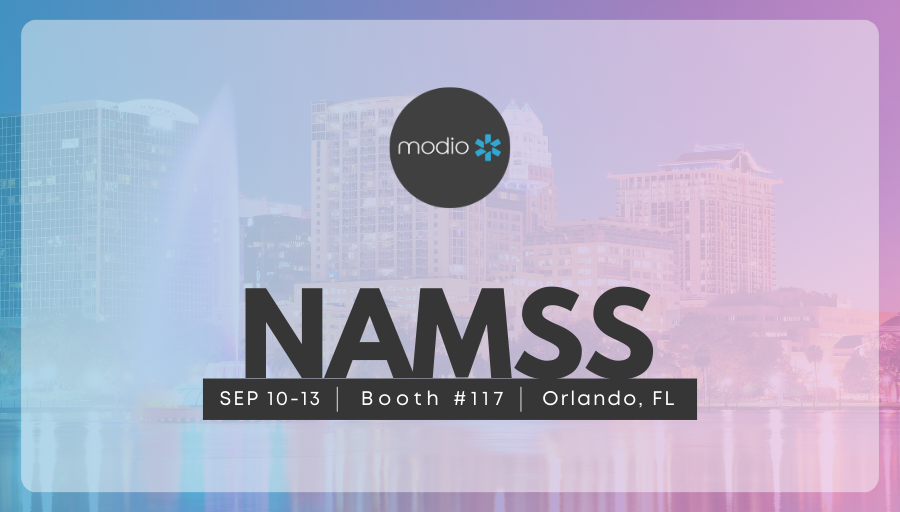 Earlier this month, I attended the 47th National Association Medical Staff Services (NAMSS) Educational Conference & Exhibition in Orlando, Florida. For those not familiar with NAMSS, it's the hub dedicated to advancing healthcare professionals in the medical staffing and credentialing services sector, making this gathering a focal point for industry education and innovation and really central to the work we do at Modio every day.
Even though this was the second year we've been able to convene in person since the pandemic, the tone was exciting, and you could tell everyone was appreciating the face-to-face interactions that define these gatherings. This year was unique with sessions that delved deep into payer enrollment and emerging trends in credentialing and privileging, drawing a large crowd and enriching our community's collective knowledge. We even had a special guest at one of the sessions — a baby alligator made an appearance, adding a fun, very Florida twist to the event!
We also shared new updates from Modio Health at the event, including the new Carbon Integrations, such as SAM, rolled out in late 2022, along with several other exciting integrations. Additionally, we unveiled a new partnership with LexisNexis, underscoring our commitment to enhancing our platform and delivering more value to our users. 
My favorite part of the event was reconnecting with our clients, both long-standing and new. Those conversations were invaluable, strengthening our relationships and providing important insights. Nothing beats the feedback we get from the people on the ground using our platform. A special touch in our booth: We handed out charming hand-poured candles from a small business in Oklahoma and organic eco-friendly totes.
Looking ahead, I'm already anticipating next year's NAMSS conference. The journey of growth and innovation in medical staffing is just beginning, and you can count on Modio Health to be at the forefront of this exciting wave. Stay tuned for what's next!
Lauren Vaughn, Client Services Executive at Modio Health
---
Learn more about how Modio can streamline your provider credentialing today!