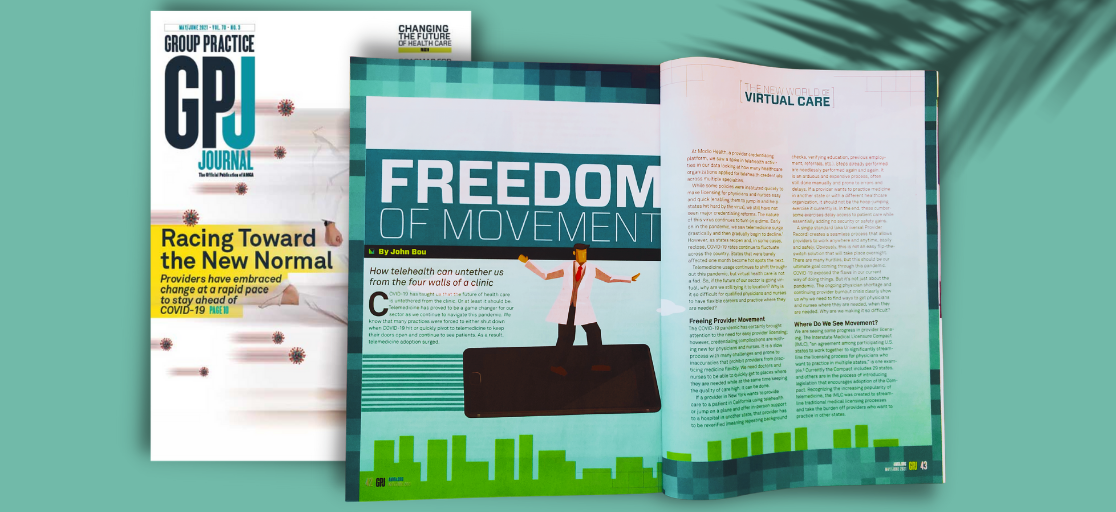 Telemedicine proved to be a game-changer throughout the pandemic; however, when we saw its impact, many of us wondered how provider credentialing could keep up with the demand. Modio COO and co-founder, John Bou, wrote in the May/June issue of Group Practice Journal, "Telemedicine has been around over a decade, and the pace is picking up — yet how to effectively credential for telemedicine remains uncharted territory." During COVID-19, our sector saw fast changes in credentialing regulations — we saw flexibility, we saw providers being able to practice where they were needed, quickly, without endless red tape holding everything back. Those of us in credentialing know that the process presents many unique, complex challenges, even if you are a physician practicing within the four walls of a clinic. However, when you start factoring in locum tenens, telemedicine, or different geographic locations and healthcare organizations, it creates a whole new set of roadblocks. 
So what happens now, as more people get vaccinated and we begin to slowly emerge back into a cautious period of recovery? Offices are open for business, patients are being seen in person, kids are at summer camp and heading back to school in the fall, but does that mean we go back to making flexibility and choice and variety so out of reach for providers?
What the "workplace" looks like post-pandemic in healthcare and other sectors is shifting. People want the option of more flexibility in how they work. A provider, for example, may want the ability to work in different states, or for multiple organizations, or to continue to practice telemedicine — credentialing red tape shouldn't deter that decision. The data show that many providers want the option of continuing telemedicine. One survey of 1,594 physicians from July to August 2020 found that 73 percent would like to continue using telemedicine to conduct chronic disease management appointments after COVID-19, followed by medical management (64 percent), care coordination (60 percent), and preventive care (53 percent).
Provider credentialing is one of the most important processes in medicine. It protects patients and providers and ensures a high-quality caliber of care is provided. It's essential. But as we start to expand on our notion of what "work" means and what our "workplace" looks like, we have to factor in the lessons we learned during this pandemic. Especially in healthcare. Janis Orlowski, MD, chief healthcare officer of the AAMC and a Washington, D.C.–licensed nephrologist, said to JAMA Network, "My patients like telehealth, and I think it's wonderful. I would like to continue doing telehealth in the future, but I will have to become licensed in Virginia and Maryland, where I have patients. It's cumbersome." Seeing how valuable telemedicine was during the pandemic has applied some pressure. Dr. Orlowski continues, "The FSMB has done a good job streamlining certain policies, procedures, and requirements for licensure over the years, but I think the pandemic will really pressure the FSMB to do something different. We do need to break down the barriers between the states."
One thing that's clear is that we don't want the momentum to slow in the progress that has been made. The pandemic did break open opportunities to fast-track gaps in care quickly, but there is still so much work to do, and part of that puzzle is modernizing the credentialing process for telemedicine and in general. Excel spreadsheets and sticky notes on file cabinets will no longer meet the task at hand for the shift in how providers want to practice, not that it ever did. 
Cloud-based credentialing technologies can vastly help improve this process for healthcare organizations. Real-time primary-sourced data can be centralized and automated, making provider verification across multiple states easier, quicker, more accurate, and more secure. We need to make it easier for providers to practice where they are needed and how they choose. We can also open up more options to care for patients who benefit from and prefer telemedicine by making it easier for doctors to offer it.