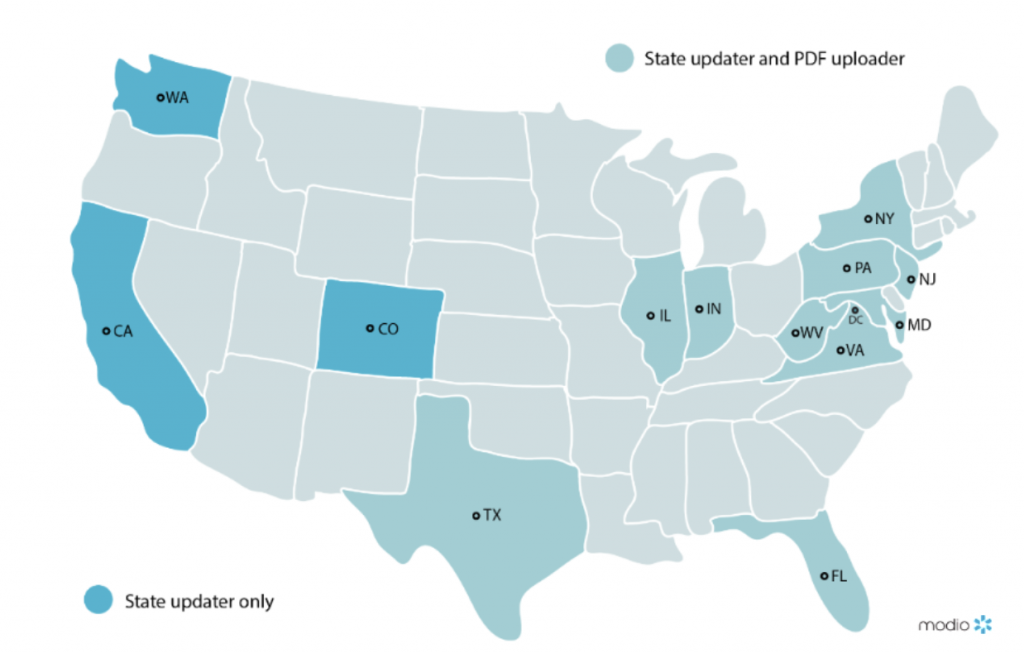 Maryland and Illinois State License Updaters: We're well into the teens as we announce two more state license updaters! Check out the map above to see the state services available through Modio.
Facility Affiliations Bulk Add: Now that you've had a few weeks to test this out, we're giving you the ability to bulk add affiliations to multiple providers at a time. Just choose one or more providers in the "Copy To" field, and the affiliations will be applied to all of their profiles.
Customizable CV: We know that our downloadable summary is pretty helpful – but what about when you don't need all that information at once? Use the new CV tool (it's the W icon in your providers' Summary section) to pick which credentialing sections you want to see in a downloadable, editable Word document.
New OIG Report: We hope you don't have to use this often, but we've created a new report for OIG status. All of your providers will show up in the report – the status column will tell you if they have a pass/fail for OIG.  
Click-and-Drag: Ever wanted to see what's under a pop-up window while you're working on a provider's credentials? You can now drag the window around the screen to see the data underneath, without having to lose your work.
OneView Team: Some of you manage more providers than we can count. So we've upped the number of providers visible per page from 50 to 200 – making it easier to use the filters or scroll, instead of endlessly clicking on the arrow buttons.