Event Log: 
We've got a new section in Manage Credentials for malpractice claims called Event Log. This is only visible to you (and other coordinators on your team), so you can record details about your providers' claim history and upload related documents. Keep an eye out for new event types in the next few weeks – we'll be adding more types like sanctions or DUI records. Note that alerts in the Event Log work a little differently from what you're used to – they're based on status rather than date. So here's how that works: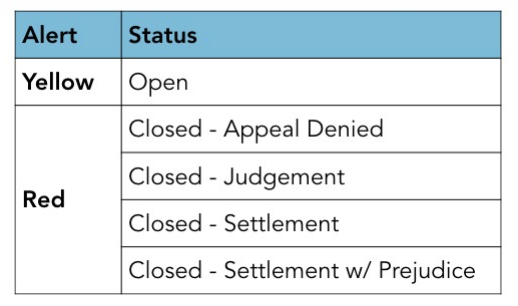 Taxonomy Codes
:
You're used to seeing Taxonomy Codes in the Licensure section, but you can now find a new field for these in Personal Info under the Specialty List (hover on the + above the provider's title field). We've set up a list of applicable codes for you – just search for the one you want by specialty or the alphanumeric code, and you can add as many as you need. (We'll be making the Taxonomy field in the Licensure section searchable next week, too.)
Certifications:
Tired of scrolling through that whole list of Additional Certifications? We were! You can search for certifications (just start typing in the box) to get there faster. You'll also notice a new field for "Certification #" here, too.
Notes:
We want your notes to be front and center, but not in your way. Check your provider notes on the team page (or credit notes in the CME section) by hovering over the Edit buttons.
Performance Updates:
You might notice some of these subtle background changes – we want to keep OneView efficient and easy for you to use.
We've upgraded page load and search times, so you get faster results.

You'll see that some of the fields in the Manage Credentials sections have been reorganized – all the original fields are still there with your data, but we've moved them to more logical places.

We've also updated some of our drop-down lists, like ID Types in Personal Info or Practice/Employer Type in Work History, so they sort alphabetically and are easier to search.
The New List:
New healthcare payors

New provider title "Certified Autism Specialist (CAS)"

New specialty "Transplant Nephrology"

New Additional Certification type "EI – Endotracheal Intubation"

New document type CAQH Profile